Kotsubo's Secret (Zushi, House)
This elegant, European style mansion is located in Kotsubo, Zushi.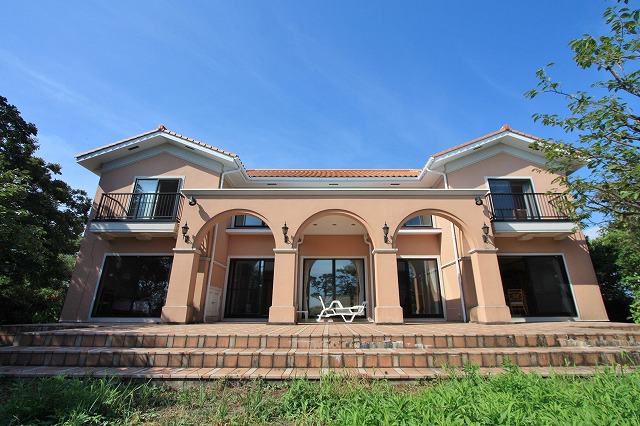 This property looks like it could have been created for the set of an avant-garde film.
It has a breathtaking atrium style living room with a view of the ocean.
This secret, tucked away mansion is spacious enough for a large family.
If you like to play host, this is the perfect place for lavish parties and intimate gathering alike.
Property Detail
Address
Zushi-shi, Kotsubo 6
Transport
11min. bus ride from Zushi station and 5 min. walk from the bus stop/13min. bus ride from Kamakura station and 7min. walk from the bus stop
Price
69,800,000yen
Land size
1160.99㎡(include sloping land)
Room size/Building size
277.40㎡
Land Rights
(Old)Act on Land and Building Leases
Building coverage ratio/Floor area ratio
50/100
Construction
wooden construction, 2 story
Room layout
4SLDK
Built
1993year
Parking space
No (Monthly parking :16,000yen/month)
Land category
Residential
Land form
Hill
Use district
Category1 low rise exclusive residential
City planning
Urban area
Adjacent road
North public road (Approx.1.5m)
Legal restrictions
Status
Inhabit
Available
Negotiable
Facilities
Public water, Public Sewage, City gas, TEPCO
Transaction type
Mediation
Remarks
1. Land lease hold term: 20 years (Renewable) 2. Land lease hold fee: 73,752yen/month (Sep., 2017year)
Updated
2017/11/25
Expiration date of this ad
2017/12/31
Property ID
1629
PLEASE FEEL FREE TO CONTACT US

046-876-6013
CONTACT FORM

We will help you to find your dream home. Please feel free to contact us.
Please use the following form to make inquiries about this property.
Please fill out the form completely.